Lifetime Care, Sizing & Repair
Even though diamonds are considered the hardest stone known to man, a diamond can scratch other diamonds. So it is important to never store jewelry together in order to avoid them from scratching or tangling. Diamond jewelry should never be worn while doing heavy work "particularly pave setting" as the points are vulnerable to chipping & even everyday activity can loosen a setting.

As a courtesy to our clients, DiamondonNet offers a lifetime care, inspection, repair, cleaning, steaming and even resizing on items purchased from us. We will even check your diamond's mounting and setting and retightened, if necessary. All you need to do is pay the round trip shipping. With proper care and maintainance, your diamond jewelry will last a lifetime. Each order will come with a jewelry solution, so you may be able to clean your jewelry at home from time to time.

How to use the included jewelry solution at home
Sink your diamonds, most color gemstones and gold jewelry in the jewelry solution (soap and ammonia water) for minimum of 2 hours, every 2 weeks.
Remove from the solution and gently scrub the front and back of the diamond(s) with a soft brush. This should loosen most dirt and greatly increase the brilliance of the diamond(s).
Rinse with hot water completely and dry with a hair dryer set on low or a soft cloth. You may want to cap the drain while rinsing so your jewelry won't fall down.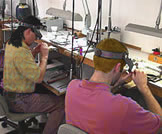 Tips on how to take care of your jewelry
Remove your jewelry before swimming, showering, cleaning, sleeping, doing rough work or handling harmful chemicals - including hair care products and perfume.
Do not expose your diamond or gemstone jewelry to sudden temperature changes, this may cause cracks.
Store each piece of jewelry in a separate container to prevent them from scratching each other. Remember, a diamond can scratch another diamond.